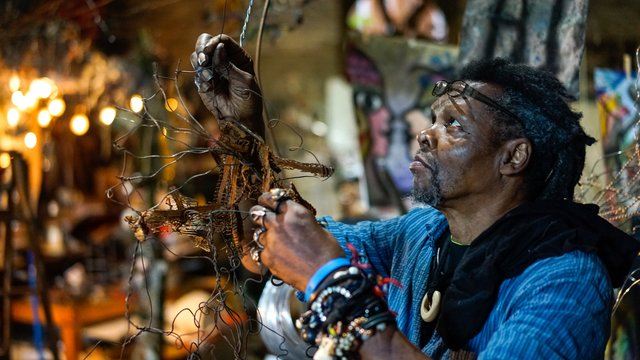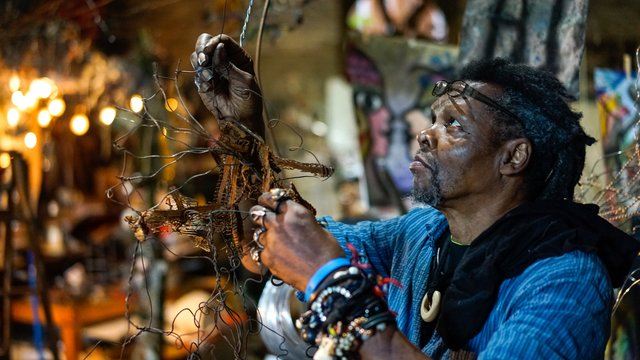 Join us in celebrating award-winning artist Lonnie Holley's 73rd birthday with a special global screening of Thumbs Up for Mother Universe, which won Best Documentary at Harlem International in 2020.
 The film chronicles a journey from survival to triumph that will challenge your view of what art is and who makes it. You have never met anyone like Lonnie Holley – are you ready?
Watch now!
ABOUT THE FILM
22-years in the making, this documentary may be the most comprehensive and intimate film about a self-taught artist and his work. The feature-length documentary traces the dramatic life of Lonnie Holley from the garbage dumps and prison camps of Jim Crow Alabama to the music stages and art museums of the world. Along the way, the film reveals the spirituality of Holley's creative process; his insights into conservation, ecology and the environment; and his deep sources of inspiration rooted in southern life and African American history and culture.
WELCOME TO THE LONNIE HOLLEY BIRTHDAY SCREENING!
Lonnie Holley is a self-taught, American visual artist and musician. On February 10th 2023, we will celebrate his 73rd birthday. Join us!
You can watch the award-winning 95-minute documentary of his remarkable life and work, and meet the man himself! Starting February 10th, you can watch any time during a 10-day window. And on Feb 19th, you can attend a live Q&A, sponsored by Art Papers, with artist Lonnie Holley and director George King. Check out the information below and watch our trailer (above.)
I enjoyed it tremendously! It's sensitive, moving, and powerful. Such an important project. Leslie Umberger, Curator of Folk and Self-Taught Art, Smithsonian American Art Museum
Thumbs Up for Mother Universe is the most fascinating documentary about an artist's life that I have ever seen. Lonnie Holley is a national treasure — Márcia Minter, Executive Director, Indigo Arts Alliance, Portland, Maine
This film depicts an artist in the truest sense, free of self- promotion and ego. He is the art, and it is him. An inspirational documentary — James McDaniel, Jury Chair, Harlem International Film Festival
An intimate reflection on the greatest imagination of our time. An essential story, never told so completely — Jordan Young, South Arts
It is truly remarkable that he survived and became the incredible artist he is today. I am so happy that he lived to see this great film. — Margaret A., American Visionary Art Museum audience
It's so moving and beautiful beyond words. — Daniel Arite, Bosch Institute
It reminded me of the power of art to heal and connect people in ways that are hard to explain. Thumbs Up caught me by surprise! It truly is a gem. — Leslie Dungee, American Visionary Art Museum audience
I am floored. I loved this film. — Steve Kopian, Unseen Films
FESTIVALS & AWARDS
Audience Award: Fine Art Film Festival, Venice, CA
Best Documentary: Bronze Lens Film Festival, Atlanta, GA
Best Feature Film: Black Harvest Film Festival, Chicago, IL
Best Documentary: Harlem International Film Festival, NY, NY
Audience Award: TallGrass Film Festival, Wichita, KS
Official Selection: Cucalorus Film Festival, Wilmington, N.C.
Official Selection: Richmond International Film Festival, VA
Official Selection: Montgomery Film Festival, AL
Official Selection: Charlotte Film Festival, S.C.
Official Selection: Tallahassee Film Festival, FL
Official Selection: Toronto Black Film Festival, Ont. Canada
Watch Thumbs Up for Mother Universe now!