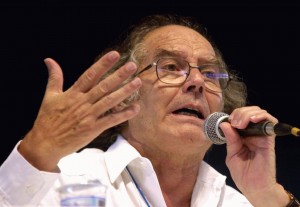 The story of Latin America over the past eighty years, as seen through the eyes of one man — world famous artist, human rights activist and Nobel Peace Prize winner.
From his humble birth in Argentina to an indigenous mother and immigrant father, to his work exposing the "dirty war" being waged by military dictatorships across Latin America, to his time as a "disappeared" and tortured political prisoner, Adolfo Perez Esquivel became known as the conscience of Latin America and as a powerful voice for the dispossessed. With extensive archival footage, family photos and never before seen interviews, this very personal film captures one man's journey upon the currents of hope that are now running across the Latin American continent, and it chronicles the genuine progress being made in the struggle for human rights and social justice, for all.
Thursday, September 10
7 PM (Doors open at 6:30 PM)
The Dwyer Cultural Center (View)
258 St. Nicholas Avenue
New York, NY 10027
United States
Tickets can be purchased at the following link or at the door if not sold out.
http://adolfoperezesquivelriversofhope.bpt.me/