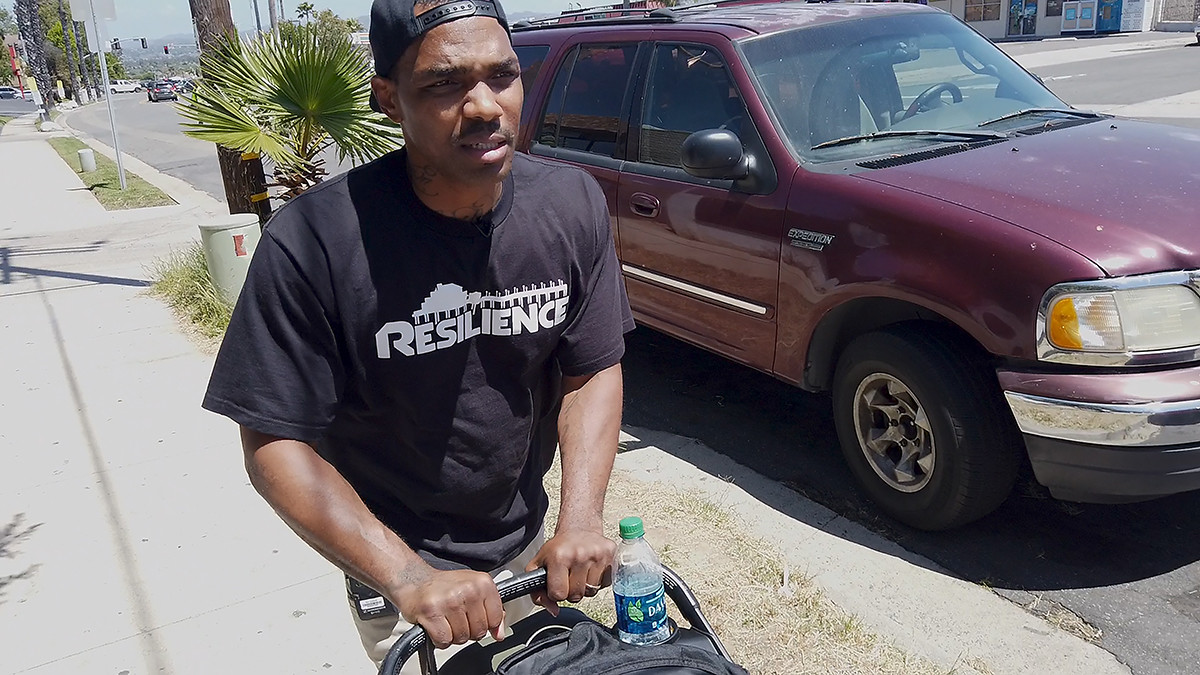 If you missed the New York Premiere of the film at the 2020 Festival, here's your chance to catch this free uplifting screening of FIRST CHANCES.
Harlem International Film Festival (Hi) and Columbia University's Mortimer B. Zuckerman Mind Brain Behavior Institute invite you to FIRST CHANCES, Second Thoughts.
The film will be followed by a discussion with the award-winning director Alex Luchsinger, Dr. Jeff Gardere, Dr. Robert Fullilove, and Timothy Jackson, the subject of the film.
The conversation will be moderated by Chandler Phillips of the Sundance Institute. We will be closing with a short regenerative meditation led by Keri Ashkenazy, associate director of the Columbia Business School, holistic health coach and meditation instructor.
Watch the trailer and get your free ticket now
(All panelist bios below film description)
FIRST CHANCES
Director: Alex Luchsinger
Country: US, Running Time: 25 min
This is the story of Timothy Jackson, a man from Oceanside, CA who never had a first chance in life and ended up serving a long-term prison sentence after coming of age as a gang member.  Jackson participated in an entrepreneurship program in prison, sparking change in his life and ultimately leading him on a path of success, love, and new meaning.
PANELIST BIOS

Alex Luchsinger
Alex Luchsinger is originally from Washington, D.C., but grew
up in Tampa, Florida. Luchsinger worked as a journalist for
CBS News in New York and covered the war in Helmand
province, Afghanistan. Now a professor at Elon University in
North Carolina, Luchsinger continues to work as a freelance
journalist and documentary filmmaker. His latest project is a
documentary-short for NBC News covering migrants trapped
in Mexico awaiting asylum hearings because of COVID-19 and
Trump Administration immigration policies. Luchsinger is a
former U.S. Marine and recipient of the Purple Heart. He holds
bachelor's and doctorate degrees from the University of South
Carolina and a master's degree from Columbia University.
Timothy Jackson
After surviving and thriving for nearly a decade in prison,
Timothy Jackson stepped back into his local community
prepared to win against all odds. Since being released February
23, 2017, Timothy has become the husband to his intelligent
and courageous wife, Kisha, and father to three strong beautiful
children. He has successfully discharged his California State
Parole and proactively reintegrated himself back into the
community he was born and raised in. Jackson has established
trusted community building relationships with the same law
enforcement agency that had previously arrested and jailed
him since he was 14 years-old. Jackson also launched his own
small business in February 2018 and has been profitable and
successful since August 2018. Since then, he has managed to
maintain enrollment in at least one semester a year in his local
community college in his hopes and desire to accomplish a
college level education in Sociology/Social Sciences.
Dr. Robert Fullilove
Robert E. Fullilove, EdD is the Associate Dean for Community
and Minority Affairs, Professor of Clinical Sociomedical
Sciences and the co-director of the Cities Research Group. Dr
Fullilove has authored numerous articles in the area of minority
health. From 1995 to 2001, he served on the Board of Health
Promotion and Disease Prevention at the Institute of Medicine
(IOM) at the National Academy of Sciences. Since 1996, he
has served on five IOM study committees that have produced
reports on a variety of topics including substance abuse and
addiction, HIV/AIDS, tuberculosis, and damp indoor spaces
and health. In 2003 he was designated a National Associate of
the National Academies of Science. In 1998 he was appointed
to the Advisory Committee on HIV and STD Prevention
(ACHSP) at the Centers for Disease Control, and in July, 2000,
he became the committee's co-chair. Finally, between 2004-
2007, he served on the National Advisory Council for the
National Center for Complementary and Alternative Medicine
at the National Institutes of Health [NIH].
Since 2010, he has been teaching public health courses in six
New York State prisons that are part of the Bard College Prison
Initiative (BPI) and serves as the Senior Advisor to BPI's public
health program. Dr Fullilove serves on the editorial boards of the
journals Sexually Transmitted Diseases, and the Journal of Public
Health Policy. He has been awarded the Distinguished Teaching
Award at the Mailman School of Public Health three times (in
1995, 2001, and 2013), and in May, 2002, he was awarded an
honorary doctorate from Bank Street College of Education.
Dr. Jeff Gardere
Dr. Jeff Gardere is a board certified clinical psychologist and
an ordained interfaith minister. In addition to having a private
practice in Manhattan, he is an Associate Professor and
Course Director of Behavioral Medicine at Touro College of
Osteopathic Medicine in New York City.
Dr. Jeff Gardere, better known as "America's Psychologist", is
also a prolific author of four books and a contributing author of
a half-dozen books including the brand-new text, The Causes of
Autism.
In addition to being a respected academician, Dr. Jeff has been
a contributor to the FOX Network, the Today Show, MSNBC,
and CNN. Dr. Jeff was the host of VH1's Dad Camp, and was
recently the substitute news anchor on the nightly newscast,
Chasing News, on the FOX affiliates. Dr. Jeff was also the
psychologist on The Housewives of Atlanta and Potomac, as
well as Love and Hip Hop ATL and NY. He is the principle
psychologist for For My Man on TV one, and Celebrity
Damage Control and They Got Away With It on the Reelz
Channel. He is also the aftercare coordinator and psychologist
for the syndicated shows, Lauren Lake's Paternity Court, and
Couples Court with the Cutlers.
Dr. Jeff has also been a producer on the following documentary
films: You Are Not Alone; Black Gay Men and Depression;
Erasing Family; Parental Alienation and the Effects on
Children; When Harlem Saved a King; The Assassination
Attempt on Dr. Martin Luther King Jr. in 1958.
Dr. Gardere is a devoted family man, raising his six children
who range in age from 4 to 27 years old. Dr. Gardere's favorite
activities include attending religious services, exercising daily
and volunteering to help those in need.
Keri Ashkenazy
Following her service with the Peace Corps, Keri Ashkenazy
started her professional career in finance and spent 6 years
working first in the non-profit sector in developmental finance
and then as a renewable energy, project finance credit analyst
at a corporate bank in New York City. However, this sort of
work left Keri feeling chronically anxious and stressed out, so
she decided to delve into a new career path and use her deep
passion for health and wellness to help others.
Now as a meditation teacher (certified through MindSpace UK
and Journey Meditation) and holistic health coach (AADPcertified
through the Institute for Integrative Nutrition) at
Integrative Medical NY, Keri helps her clients learn tools, such
as mediation techniques and healthy eating/exercise protocols,
to reduce chronic stress and inflammation. She has a master's
degree in Social-Organizational Psychology from Columbia
University, where she also works full-time, developing faculty at
the Graduate Business School.
Moderator Chandler Phillips is an Engagement & Advocacy
Manager at Sundance Institute and a documentary
photographer. Raised with roots in the South and West
Indies, Chandler is deeply interested in stories of Blackness,
womanhood, and communities that have been historically
overlooked and misrepresented. She is a recipient of the John
Lewis Fellowship, Lewis Hine Fellowship and others as well
as a graduate of Duke University. Chandler is proudly Black,
grounded by faith, and forever seeking possibility.