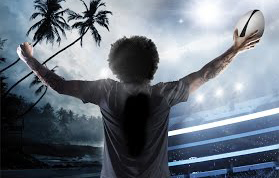 Award-winning UK filmmaker and Harlem International Alumnus, James Marquand, releases PACIFIC WARRIORS, his riveting new film, on Netflix and it is nothing short of exhilarating…
Against all odds, professional rugby players from the Pacific Islands of Fiji, Tonga and Samoa head to France to take on the best teams in the world.
For the Pacific Islands the game of rugby has become the modern expression of their traditional warrior spirit. Their lightning fast, brutally physical, high risk style of rugby is legendary, making them every true fan's favorite team wherever they play. But the reality behind the all-action sporting entertainment they provide is set against the unbelievable odds they go up against every time they play.
Tonga arrives at the World Cup in France, its small talent pool having been culled from a total population that would barely fill one stadium, and given its limited resources, this fun loving band of brothers must train in public parks. But, during the tournament, Tonga pushes the boundaries of rugby to the limit on and off the pitch, nearly resulting in the greatest ever upset in professional sport and potentially changing the game forever.
Although a Pacific Island team may not have won the World Cup just yet, in one important aspect the Islanders are victorious. Ask Jonny Wilkinson, Sir Clive Woodward or Serge Betsen where the greatest supply of raw talent comes from and the answer is unanimous – the tiny populations of the Pacific Islanders. Relatable to rugby fans and newcomers alike, and with contributions from the greats of rugby, Pacific Warriors is a unique, humorous and personal insight into two very contrasting worlds, all united in their passion for one sport.