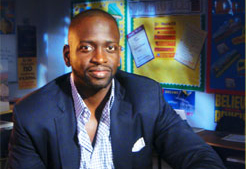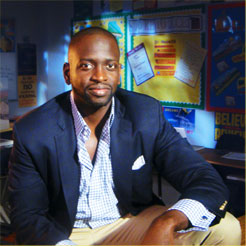 We had the distinct pleasure of catching up with this prolific filmmaker for a rundown on some of the latest projects he is busy working on.
TONY DUCRET lived in New York City for over a decade, and is originally from Houston, Texas. He graduated from Wesleyan University's pioneering undergraduate Film Studies department in Middletown, Connecticut with High Honors. Since leaving Wesleyan, Tony has directed 4 short films, including the award-winning Jackpot! and I Can Smoke? selected as a Top Short at Harlem International in 2012. He also became a finalist at the Festival in 2014 for his screenplay Straight Drive. Tony has also completed one micro-budget feature, Hospitality, a psychological thriller, available nationwide on DVD and Amazon VOD. Tony has primarily worked in non-fiction television while pursuing his screenwriting and independent filmmaking. He is currently an M.F.A. candidate in the University of Southern California School of Cinematic Arts' Peter Stark Producing Program. 
Hi: How, where and why did you start making films?
Tony: My first film was a documentary that I made in high school. At age 14 I moved from Houston, Texas to a private boarding school in Massachusetts. The experience was incredibly alien to me, and I had access to a video camera, so I started to document it. I shot four years worth of footage, and during my senior year I was allowed to turn the assembly of my footage into a senior project elective. I screened the completed doc days before graduation, and the experience of sharing the film with an audience, and hearing their reactions, hooked me on the moving image as a means of artistic expression. When I arrived at college, I decided that I would add Film Studies to my course of study, and the obsession with narrative film took hold.
Hi: What can you say about your transition from being an award-winning Harlem based filmmaker to attending a great film school on the other side of the country?
Tony: Each day I continue to grow more excited about the move from Harlem to the Stark Producing Program at USC. My existence in New York was one of working in non-fiction television and making independent films when my finances and spare time made it feasible. I'm very grateful for the progress that I was able to make using that strategy, but I think as someone who wishes to write and direct narrative film and television, the move to LA will allow me to move toward that goal at a more rapid clip. And while there are no guarantees in this business, I do feel that the relationships that I'm forming as a result of being at arguably the best film school in the world, can only serve to expand my knowledge, and improve my chances for success.
Hi: Can you tell us about your new film Carlsbad and how it was shooting in a studio environment?
Tony: My class is currently in production on the Stark Spring Films in which our group of 24 breaks into teams to produce 12 films during the course of the semester. I am a co-writer and Director of one of those projects. Carlsbad is the story of a homeless man with a violent past who is provoked into accidentally killing a motorist after a fender bender with his shopping cart. As he attempts to escape Los Angeles, and the consequences of his bad deed, he is befriended by a 7-year-old female runaway, and must decide between pursuing his freedom by all means necessary, or endangering his escape plan to help get his vulnerable new friend back to safety. When complete, this bittersweet, suspense filled, drama will be about 7 minutes in length. I'm having a blast working with the talented artists that fill my class, and was especially excited to take advantage of an awesome perk that allows film students to access certain studio backlots when they are not booked on weekends.
Hi: Congratulations on the success of your recent kickstarter campaign for your film MBFF (Man's Best Friend Forever).  Can you tell us what the inspiration was behind it?  Any advice you can give to fellow independent filmmakers about running a successful crowd funding campaign?
Tony: I'm excited to finish up my short film MBFF (Man's Best Friend Forever), and allow it to start its life on the festival circuit. The inspiration for that film came from my best friend, and the Executive Producer on the project, Nii-Ama Akuete. Essentially, he saw a girl jogging through a dangerous neighborhood with her dog, and thought it might be interesting to know what that dog's life was like, and what might happen if the dog and its owner encountered some dangerous situation, and encouraged me to make a film with that idea as a seed. I eventually wrote a script for a short film where all of the action was seen from a dog's POV, which he reacted well to, and we decided to go for production just weeks before my move to LA. We actually completed principal photography 2 days before my one-way flight from JFK to LAX. The film has an organic pro-rescue animal sentiment embedded in its story, and support for such a story was crucial in accessing the locations, and animal expert assistance that was necessary to shoot the film, as well as helping to crowdfund the finishing funds. At present, "MBFF" has a built-in, organically formed, audience that will be ready to support the film anywhere that it screens. I look forward to that process, and would encourage any filmmaker with a project that appeals to a specific community, to make that community aware of the project the moment they know that it is going to get made.
Hi: Thanks Tony, we look forward to seeing all your new work. Anything else you want to tell our audience about?
Tony: Graduate film school is going really well. My classes are filled with legendary teachers and guest speakers who have been responsible for the creation of some of my most beloved films and television shows. Last semester I had the opportunity to intern at Red Granite Pictures (Wolf of Wall Street, Daddy's Home), and this semester I am interning at Fox Searchlight Pictures. The ability to observe and learn from the creative professionals that make the decisions in such esteemed halls is incredibly inspiring and extremely valuable for me as I continue to refine my taste in content and my professional goals. I am quite literally elated to be here, and living a wholly creative and academic existence.
To keep up to date about Tony's work be sure to check back here and visit him directly at www.ducretmedia.com