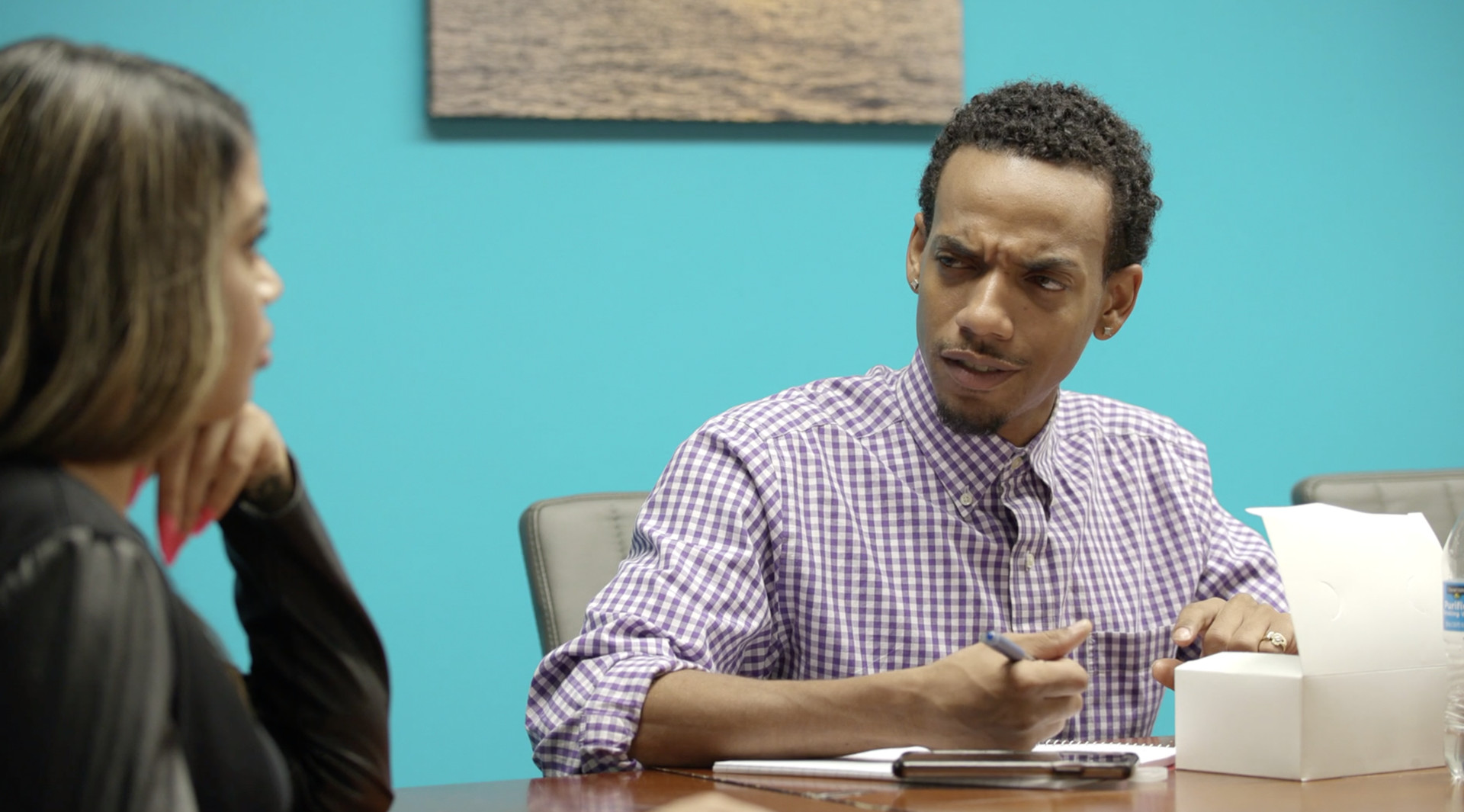 Watch all nine webisodes and join the filmmakers for a special discussion with Harlem International Film Festival at 3 PM on Saturday, September 19.
Be sure to check out the four Uptown selections at the end of the list!
BEFORE WE WRAP   
Director: Elizabeth Charles
Country: US, Running Time: 23 min
A late-night talk series with focused discourse on race, gender and culture, in the vibe of 90s nighttime urban radio. It also features Neosoul and RnB musical guests.
Watch now!
*mature content
BONG ZOMBIES     
Director: Mick Napier
Country: US, Running Time: 40 min
A 5-part streaming series. Ringo and Stash are two freegan artisanal paraphernalia crafters. When they obtain a cursed evil relic, they unwittingly create a series of bongs that turn the smokers into flesh-eating zombies. Upon learning this, they are in a race against time to track down the zombies and turn them back to human before they wreak havoc on the city. They do all of this while catching up on their favorite 80's action TV show "Johnny Patel: Private Eye". Presented by Fox on a Hill Productions in association with The Annoyance Theatre in Chicago.
Watch now!
*mature content
DIFFERENCES                                                       Harlem Premiere
Director: Antjuan Ward
Country: US, Running Time: 20 min
Derrick Peters and his friends struggle to tackle various issues within themselves, those around them, and who they choose to be with. Through it, their dating partners expose their flaws for them to see the errors of their ways.
Watch now!
ONE CUCKOO                                        New York Premiere
Director: Jess Coles
Country: US, Running Time: 9 min
One Cuckoo is a web series pilot which introduces us to Alix, a fiercely opinionated yet sensitive African-American artist, who attempts to navigate life in New York while engaged in active battle with a trio of bickering inner voices whose antics drive her to search inward after a series of failed friendships leave her alone and confused in the big city.
Watch now!
SO BRIGHT 2 (second season)
Director: Kok Man Hon
Country: Singapore, Malaysia, Running Time: 30 min
An aspiring musician juggles relationships and career as he navigates obstacles on his journey to success.
Watch now!
Uptown Webisodes
DOMINICANYORK                                Upper Manhattan Premiere
Director: Michelle Ramirez
Country: US, Running Time: 10 min
Mia has returned to the neighborhood after being away at college. As she attempts to reconstruct her life back home in Washington Heights, she is forced to deal with challenges she wasn't prepared for.
Watch now!
*mature content
EXTRA ROOM                                                 New York Premiere
Director: Gabriel Shanks
Country: US, Running Time: 26 min
Two queer roommates — an aspiring novelist and an immigrant photographer — struggle to keep their sweet, but cozy Inwood apartment. When the landlord doubles the rent, however, there's only one thing to do: turn the couch into a bed, advertise for a third roommate, and squeeze the square footage to fit everyone! But who will join the increasingly-crowded abode? The genderfluid chef? The newly-divorced, just-out dad? The nonbinary kid from Kansas? Or…the sexiest guy on the block? Extra Room is a six-episode comedy series exploring an uncommonly diverse group of strangers as they become a family, staying one step ahead of the gig economy with charm, hustle, sex, and love.
LEA THE LATE BLOOMER
Directors: Kadia Blagrove, Remy Fink
Country: US, Running Time: 9 min
After a failed attempt at "making it" in LA, a 28-year-old underachieving filmmaker returns to The Bronx to live with her parents, and is forced to face her old demons and self-sabotaging behavior. In this episode, Lea attends a "Black Girl Magic" brunch — only problem is, she ain't that magical.
Watch now!
*mature content
THE CLOSET B.I.T.C.H.                       Upper Manhattan Premiere
Director: William Alexander Runnels
Country: US, Running Time: 20 min
The Closet B.I.T.C.H is a one-woman show and coming of age story about Shana, a girl from the South Bronx who just can't say 'NO' to the people she loves while trying to outgrow the hood she came from, even if it's just an act.
Watch now!